In summer, many tourists go on board of the Yellow Train, but this train also runs daily all year round whatever the weather conditions. You will find below the timetables to travel from May 27, 2023 to December 9, 2023.
Remember to check the circulation of your train before departure. You can get a refund in case of cancelled departure.
With its 63 km, the Yellow Train route that goes from Villefranche-de-Conflent – Vernet-les-Bains/ to Latour-de-carol – Enveitg, also known as the Train Line of Cerdanya, serves 21 train stations, 8 of which are obligatory stops (Villefranche-de Conflent, Olette, Fontpédrouse Saint-Thomas-les-Bains, Mont-Louis, Font-Romeu, Saillagouse, Bourg Madame and Latour de Carol / Enveitg), and the others are optional "on request" stops (also called Railway Stops). It is a fun and memorable way to discover the territory of the Natural Regional Park of the Catalan Pyrenees in open or closed wagons, depending on the season…
5 of the 21 Yellow Train stations have a ticket office. Advance ticket booking is possible, regardless of departure and destination.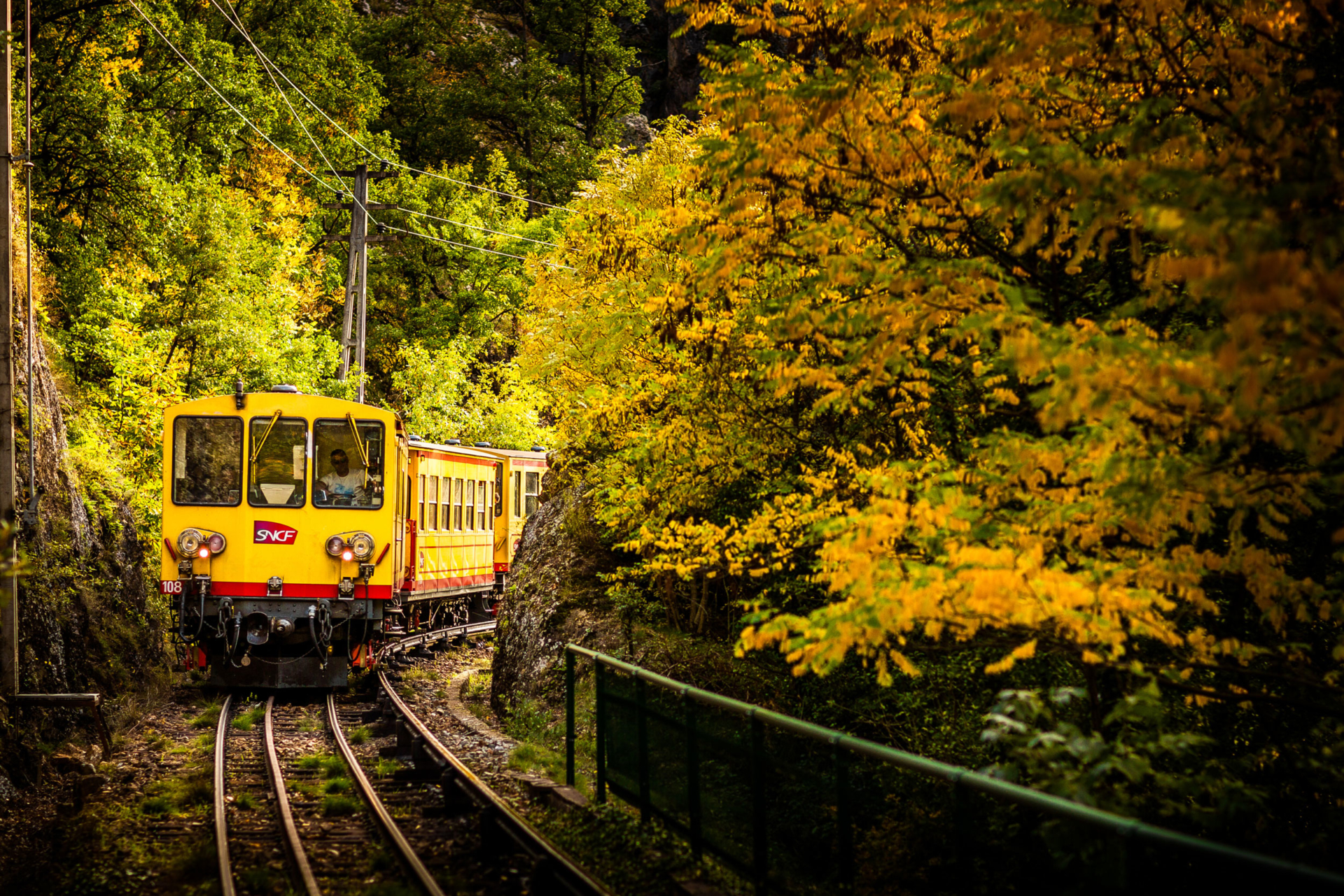 The Yellow Train runs all year round with a few downtimes due to line and equipment maintenance. In summer, because of the high number of visitors, it is important and recommended that you book your seat in advance on booking websites :
It takes 3 hours for a one-way trip from Villefranche-de-Conflent to Latour de Carol / Enveitg and the cost is €22.50 (or €5 if you got a special summer offer from the "Region Occitanie") or 6 hours minimum for a return trip (there is a stop of a few hours at the terminus) for €45 full price. The prices depend on the length of the desired trip, the number of people and seasonal promotions.
There are no shuttle bus to get to the village of Mont-Louis when the train arrives at the Mont-Louis train station. It takes between 15 and 20 minutes to go up to the village on foot (1 km uphill).
To get more information, call the Villefranche Yellow Train direct line 0033 4 68 96 63 63, from July 1, 2022, from 8.30 a.m. to 12 p.m. and from 1.30 p.m. to 5.15 p.m.
"Tribu Evasio" group tickets can be booked at the train station or online: -30% from 3 people, -40% from 4 people and -50% from 5 people. Young people from 12 to 26 years old get a -50% discount….
For information purposes only, here are some trip durations and prices (excluding summer promotion) according to the routes booked:
Villefranche-de-Conflent to Mont-Louis: 1h15 – €10.90/person one way (normal price)
Villefranche-de-Conflent to Font-Romeu: 1h45 – €13.30/person
Villefranche-de-Conflent to Latour de Carol: 3h10 – €22.50/person
Latour de Carol Enveitg to Font-Romeu: 1h15 – €11.60 /person
Latour de Carol Enveitg to Mont-Louis: 1h40 – €13.90/person
If you buy a return ticket, you can make a stopover. You must indicate it when you buy your ticket (please check the terms and conditions with the SNCF or TER Occitanie train stations before booking).
Pushchairs, bikes (which are limited in number, please check the information at the train station) and other equipment are accepted on board of the Yellow Train (find out the terms and conditions beforehand at the stations). Please note, however, that there are no elevators to access the wagons.
Dogs are allowed on board of the Yellow Train for an additional fare of €7 (one way). Dogs over 6 kg must be muzzled and kept on a leash. Particular attention must be paid to fearful dogs because the train can be noisy, especially when passing through tunnels – keep them on a leash. Make sure to have water for your dog because it can get very hot on the open wagons.